Example 1: Military personnel position themselves for the Saber Arch ceremony. The soldiers are standing along two lines parallel to a straight line coming down the center of the airplane staircase. They are also all standing the same distance from that center line. The soldiers are forming a locus of points.
Set of points: the soldiers' locations
Condition: Saber Arch ceremony
Locus: 2 lines parallel to the center line,
and an equal distance from center line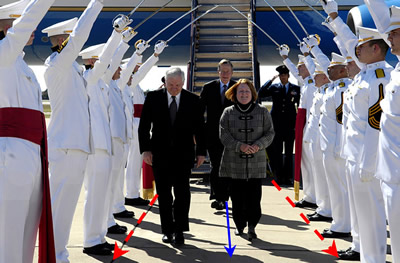 This 2007 photo shows Secretary of Defense Gates, his wife and former President Bush being welcomed in Texas.
Example 2: Fifteen years ago, a series of trees were planted along a straight line driveway leading to an estate. Each tree was planted the same distance from the center of the driveway.
Set of points: the trees' locations
Condition: as a driveway border
Locus: 2 lines parallel to the center line,
and an equal distance from center line